Addiction and the Family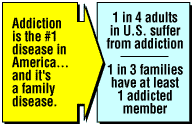 This site addresses the most often-expressed concerns about addiction and the family...
Why your loved one keeps doing what he or she does… going back to the gutter… even though bad things invariably happen?…
How we know that addiction is a disease. It's not a lack of willpower or scruples… it's not anyone's fault… it's a disease…
How we know that treatment works if one stays engaged in treatment…
How to get treatment and how to stay engaged in treatment.
How the most common causes of relapse can be minimized.
Why it's critical that your entire family becomes knowledgeable about this disease and how that knowledge can impact recovery.
Why you as a family member need treatment as much as your loved one.
This site provides you the information and resources you need to help build a foundation for the family you long for. It can happen. The knowledge and tools are here…

Request an appointment online or call 800-789-PENN