Tolerance: Normal Versus Addicted Brain
Addicted persons have a greater tolerance for alcohol and drugs.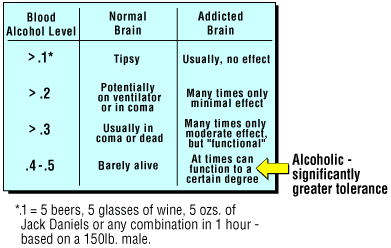 Alcohol Retention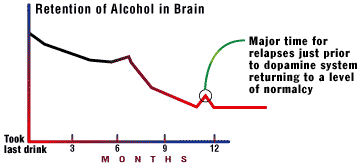 Alcohol remains in the brain for 11 1/2 months before the dopamine system gradually returns to a semblance of normalcy. For other drugs, it takes 12 to 18 months. That's a major reason relapse is so hard to avoid, especially during the first few months.
The emotional memories stored in the amygdala are merely dulled in recovery. With relapse, the levels quickly return to what they were previously – regardless of the time in recovery. The body doesn't know time.
So when 12-Step Fellowship calls for 90 meetings in 90 days, there's a good reason. The alcohol the addicted person drank 60 days ago is still there. The emotional memory is still there. The body is still receiving inappropriate messages from the amygdala telling the person to grab the vine. Only consistent treatment can provide the strength and time needed to bring the dopamine system back to a manageable level.

Request an appointment online or call 800-789-PENN