The Historic Library has many titles important to the study of natural history which contain vivid illustrations of flora and fauna.
Fauna: Pennsylvania Hospital's Menagerie
Below, engravings of an elephant and a reptile from an English translation of the work of Ambroise Pare (1510-1590), a 16th-century French physician.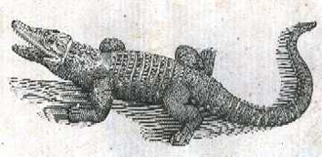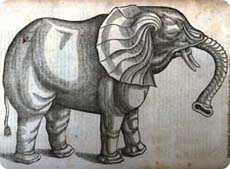 At left, "The Red Bird" from The Natural History of Carolina by Mark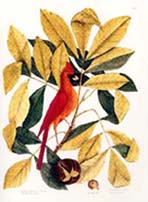 Catesby. Catesby (1679-1749) was an enthusiastic botanist who wrote extensively andillustrated his own work. When he found it too expensive to have his drawings engraved, he learned to engrave his own work. The original drawings are in the Royal Library at Windsor.
Of the Red Bird he wrote, "These Birds are common in all parts of America from New England to the Cape of Florida, and probably much more South... They are frequently brought from Virginia, and other parts of North America for their beauty and agreeable singing, they having some notes not unlike our Nightingale, which in England sees to have caused its name of Virginia Nightingale..." He describes the size of the Bird as "it equals if not exceeds the Skylark." The color of the body is scarlet with the back and tail darker and more of a cloudy red.
---
Flora: Botanicals and Herbals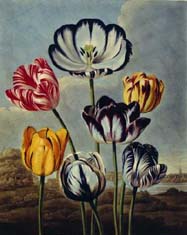 At right, "Tulips" from Robert Thornton's Temple of Flora (London, 1807)