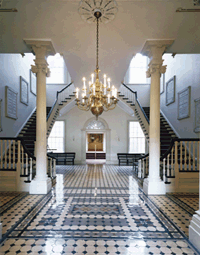 The center section of the building was designed to be the residence of the officers and servants and for other necessary purposes. The first floor of the building became the administrative center and is still used for this purpose today. Also housed on the first floor was the original apothecary and the historic library, both are the first in the nation.
The present floor of the Great Court is adorned with Portuguese tile that is estimated to be over 150 years old. Underneath the tile is the original wide-planked pine floor. The tablets adorning the walls were erected in honor of some of the benefactors who supported the Hospital in its early years and throughout the difficult financial times that followed. The Great Court was restored in 1976 for the nation's bicentennial and was completed using traditional colonial colors.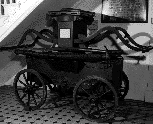 The fire engine was purchased in 1803 and is believed to be the work of Philip Mason, a Philadelphia engine maker. The fire engine was needed so employees could pump their own water in case of fire. The Board of Managers was so proud of its acquisition it tested the engine prior to each month's Board meeting.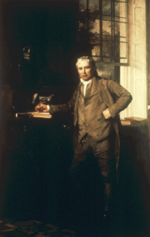 The Samuel Coates portrait outside the original apothecary is one of two paintings in the Hospital that were created by the famous artist Thomas Sully.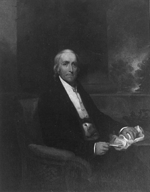 The original apothecary most recently has been used as the offices of the Hospital's senior administrator and is now used as a meeting facility. On the wall just inside the door is the Hospital's portrait of Dr. Philip Syng Physick, the father of American surgery.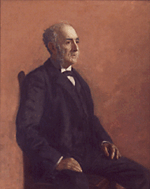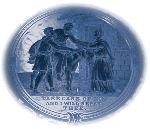 At the top of the east window is an etching of the Hospital's seal, which depicts the bible story of the Good Samaritan. To the right of this east window, under the etching, is the Thomas Eakins painting of Dr. Joseph DaCosta, a physician on staff for many years. It is unknown why the famous painter chose DaCosta as a subject.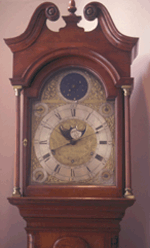 In the far corner is a musical planetarium clock constructed by David Rittenhouse in 1780. The clock was deposited at the Hospital in 1819 by Sarah Zane, who bequeathed it in 1870, upon her death.
The room across the hall served originally as the library, the nation's first medical library. Today it is used as a meeting facility.
Continue on to The Historic Library