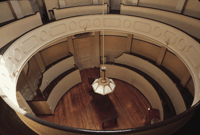 The top floor is the home of the nation's oldest surgical Amphitheatre, the "dreaded circular room." The Amphitheatre served as the operating room from 1804 through 1868. Surgeries were performed on sunny days between 11:00 am and 2:00 pm since there was no electricity at the time. Candles also were used to help illuminate the room. The light in the center is a reproduction of a gaslight and was probably not used until the 1830s.
The surgeons who first used this room were considered skilled craftsmen. In this surgical Amphitheatre surgery became the nation's first medical specialty. Medical students and locals paid to observe the surgical procedures. Posters were placed around town to notify the public of the procedures being performed and the surgeons in attendance. The Surgical Amphitheatre seats 180 and with those standing, up to 300 people might be present during any given surgical operation.
The most common surgical procedures of the day included amputation; removal of internal and external tumors, bladder stones and cataracts; repair of hernias; and the setting of fractures. Patients were carried up the three flights of steps strapped to chairs or on stretchers before their operation.
Anesthesia was not used until the 1840s. The surgeons at Pennsylvania Hospital were slow in accepting it, and delayed its use until 1846. Even then, anesthesia was used only on women because it was believed that women were less resistant to pain. Prior to the use of anesthesia, the surgeons got the patients "blind drunk, gave them opium or administered a sharp tap on the head with a mallet enough to render the patient unconscious and hopefully not dead."
Sterile technique was not used in this country until the 1890s. Before that time, surgeons washed their hands after the procedure. They wore coats to protect their clothing and hung these coats outside the Amphitheatre on hooks on the walls. These coats went unwashed for years at a time.
The rooms outside the Surgical Amphitheatre were used as recovery rooms.
Continue on to The Hospital Gardens