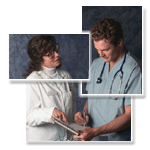 Emergency physicians are frequently reticent to adopt clinical pathways for the care of their patients. New developments in the evaluation and management of ED patients with life-threatening symptoms such as chest pain and acute shortness of breath, however, have necessitated the "rationalization" and "protocolization" of ED care in order to treat patients rapidly and efficicously, and to interface appropriately and seamlessly with our colleagues in other specialties.

Examples of "standing ED orders" for various illnesses, both from PAH and other institutions, will be posted on this site. Feedback is welcome, and others who have similar protocols are invited to submit them to Dr. Charles Pollack for inclusion at pollackc@pahosp.com.

Pennsylvania Hospital:
PLEASE NOTE: These documents require free Adobe Acrobat Reader. Click here to download the latest version.