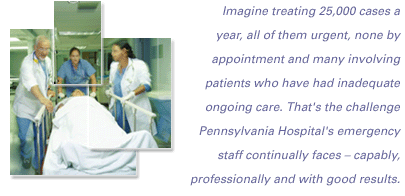 Pennsylvania Hospital's full-service Emergency Department is equipped and staffed to provide state-of-the-art emergency medical care 24 hours per day, seven days per week. The ED maintains a service-oriented atmosphere in which patients are evaluated and managed by skilled and experienced physicians and a talented nursing and technical staff.
Our staff is equally comfortable providing life-saving services and routine care for our patients. Emergency physicians enjoy prompt and reliable round-the-clock access to specialists and subspecialists on the Pennsylvania Hospital staff, as well as to the most current diagnostic imaging and laboratory testing modalities.

The physician staff of the Pennsylvania Hospital Emergency Department shares a significant professional interest in the emergency care of patients with chest pain and with stroke symptoms. Clinical protocols are in place that provide for rapid, evidence-based evaluation and management of these patients by a multidisciplinary team of professionals dedicated to providing a smooth and seamless transition of care from the ED to inpatient critical care settings. Our emergency physicians regularly provide teaching conferences at PAH in these important and always-changing clinical areas of interest.

The Emergency Department at Pennsylvania Hospital is scheduled to undergo substantial renovation beginning in 2004. In addition to increasing and upgrading current patient care spaces, the new ED will include a 10-bed observation unit and chest pain evaluation center. As planning continues for this exciting project, updates will be posted on this site.