Chair
Jack Ludmir, MD
Program Director
Dominic Marchiano, MD
Residency Coordinator
Odinae Fisher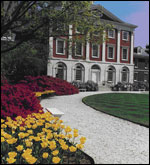 About the Program
The residency program offered by the Department of Obstetrics and Gynecology is a four-year educational experience. Our program has been continually accredited by the Council on Resident Education in Obstetrics and Gynecology (CREOG) since 1955, and we are currently accredited on a four-year cycle concluding in 2013. In addition, the program fulfills all requirements established by the National Residency Review Committee (RRC).
Residents receive in-depth clinical and didactic training in all aspects of women's health care – obstetrics, gynecology, family planning, primary care, gynecologic oncology, reproductive endocrinology and infertility, maternal fetal medicine, human genetics, and urogynecology.
Jack Ludmir, MD, is the Chairman of the Department of Ob/Gyn at Pennsylvania Hospital, as well as the Vice-Chairman of the Department of Ob/Gyn at the Hospital of the University of Pennsylvania.
As part of Penn Medicine, Pennsylvania Hospital is a major teaching site for Penn medical students for both their core Ob/Gyn rotation and subspecialty electives. Pennsylvania Hospital residents play a key role in the education, clinical experience, and evaluation of medical students.
The Obstetrics and Gynecology residency program matches six PGY-1 residents. The program totals 24 residents in full capacity (six PGY-2, six PGY-3 and six PGY-4).
Educational Philosophy
The primary goal of obstetrics and gynecology education at Pennsylvania Hospital is to create practitioners who are capable of caring for the full continuum of a woman's health care needs across her lifespan. We emphasize teamwork and collegiality among residents, attendings, nurses, and support staff. The Department of Ob/Gyn, under the leadership of Dr. Ludmir, is committed to providing quality care for all women in the Philadelphia community and abroad. To that end, we have established a division of our resident-run practice that provides care for many of the uninsured and indigent women in our community.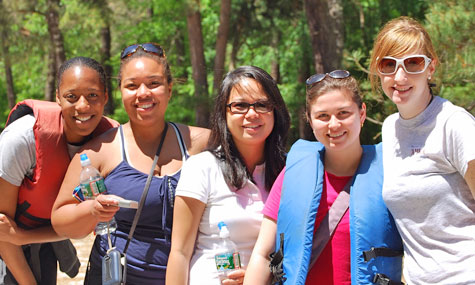 Residents prepare to canoe New Jersey's Pine Barrens for Resident Fun Day 2010.
Experience
Over 5,000 babies are born at Pennsylvania Hospital annually. The residents are involved in the management of all of these patients. In July 2008, a "laborist model" for attending coverage on the labor and delivery unit was instituted. The laborist system means that for any 24-hour shift, there are two attending physicians on staff whose only responsibility is to oversee the labor and delivery floor. The laborist model has led to improved attending-resident collaboration with the ultimate goal of improving patient safety.
Residents gain outpatient experience through subspecialty rotations and working at Women and Children's Health Services (WCHS), the resident-run clinic. One-fifth of our patients receive their care at WCHS, where there are about 15,000 outpatient visits per year. The volume of patients at the clinic provides residents with the unique experience of operating a high volume clinic and being the primary physician for patients with a wide variety of obstetric and gynecologic problems.
Gynecology services at Pennsylvania Hospital perform over 2,300 procedures annually. The residents participate in all cases and are either the surgeon or first assistant for the vast majority of cases. In addition, Pennsylvania Hospital is a leader in minimally invasive and robotic gynecologic surgery. Penn's gynecologic oncology and urogynecology fellows operate with the attending on a portion of the cases.
---
All residents rotate on a monthly schedule. Resident duty hours are in compliance with ACGME work-hour restrictions. Each resident's hours are tracked using monthly surveys.
PGY1
In making the transition from medical school to residency, interns are given graduated levels of responsibility and independence. Off-service rotations are completed during this year to provide a strong foundation of general medical knowledge and skill, and to gain familiarity with colleagues in other departments.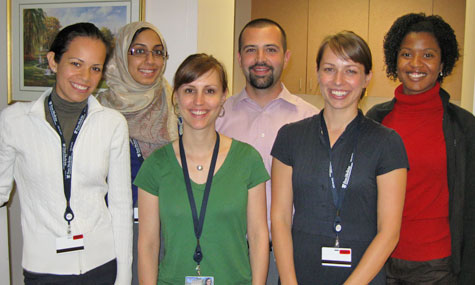 2010 Interns
While on service, PGY1's will manage postpartum and postoperative patients as well as begin to learn obstetric triage and intrapartum management. Intern surgical experience includes cesarean sections and minor gynecologic cases, including LEEP, hysteroscopy, and tubal ligations. Interns are first call for ER consults.
Rotations:
Obstetrics (3 months) – The Obstetrics intern learns the management of normal labor, delivery, and postpartum care. This includes one month where a PGY-1 is expected to be the resident scrubbed-in on all uncomplicated, full-term vaginal and cesarean deliveries. The intern is also the primary resident in charge of the postpartum floor, working in conjunction with mid-level providers to reduce the burden of volume.
Gynecology (2 months) – Intern gynecological surgical experience includes mostly minor cases, including LEEP, hysteroscopy, and tubal ligations. On this rotation, there is the opportunity to learn the full range of family planning services, including pregnancy interruption (with available opt-out). Interns are first call for Emergency Department consults and for benign gynecology post-operative patients.
Night Float (2 months) – This rotation helps develop autonomy and independent thinking, as well as provide even work-flow within the duty hours guidelines set forth by the ACGME. The intern works with the rest of the night float team to provide care for all of the ob/gyn patients in the hospital. Specifically, the intern helps manage and deliver all uncomplicated, full-term labor patients as well as the benign gynecology service.
Ambulatory (2 months) – This rotation is designed to develop skill in the management of outpatients. As the junior member of a team, the intern on service will learn the basics of physical examination and office management of obstetric and gynecologic issues.
Off-Service Rotations (1 month) – In addition to expanding your knowledge base, these three rotations expose interns to colleagues in other departments. These relationships are later useful for residents in order to collaborate with subspecialists from other departments to care for complicated patients.



Emergency Department (1 month)
ICU (1 month) – Combined medical and surgical ICU, code team
Inpatient Medicine (1 month)
PGY 2
During their second year, residents are challenged with managing all intrapartum patients on our busy Labor and Delivery unit, and with participating in major abdominal surgeries both in general gynecology and gynecologic oncology. On the gynecology service, second year residents manage patients with suspected ectopic pregnancies and molar pregnancies. They also begin preoperative planning by evaluating, scheduling, and performing family planning surgeries.
Rotations:
Obstetrics (3 months)
Gynecology (3 months)
Night Float (2 months)
Maternal Fetal Medicine

In combination with Ultrasound and Genetics (1 month)
In combination with Ambulatory (1 month)

Gynecologic Oncology (2 months)
Women's Health (1 month) – Outpatient management of perimenopausal and postmenopausal patients; office and surgical management of benign and malignant breast disorders; family planning.
PGY 3
Many of our residents consider their third year to be their favorite. They are exposed to more surgical subspecialties and participate in more advanced gynecologic surgeries, including laparoscopic and vaginal cases. During the obstetric rotation, PGY 3's run the perinatal triage unit, which involves working with junior resident and mid-level providers.
During the second half of this year, residents have a one-month, call-free elective. The specific nature of this rotation is left up to the resident based on interests and career plans. Many residents have taken advantage of the Harrison Fellowship, an internal monetary grant encouraging exposure to international medicine, and spend this month practicing obstetrics and gynecology abroad.
In recent years, our residents have spent elective months on six different continents. Other residents stay closer to home to do research, to spend more time on subspecialties (i.e., urogynecology, MFM, gynecologic oncology), or to observe unique technologic advances in the field (i.e., fetal surgery). This elective and the opportunities afforded by the Harrison Fellowship are unique features of Pennsylvania Hospital's program.
Rotations:
Obstetrics (2 months)
Gynecology (2 months)
Night Float (2 months)
Urogynecology (1 month)
Reproductive Endocrinology and Infertility (1 month)
Chester County Hospital (2 months) – Primarily a gyn surgical rotation
Ambulatory (1 month)
Elective (1 month) – See above
PGY 4
The fourth year challenges the resident with independent decision-making and patient management. Under the supervision of faculty, PGY-4's manage all patients on inpatient services and outline care plans for Women and Children's Health Services patients. Our chief residents are also very involved in crafting the education of their junior residents.
Obstetrics (2 months)
Gynecology (2 months)
Night Float (2 months)
Maternal Fetal Medicine/Ambulatory (2 months)
Gynecologic Oncology (2 months)
Reproductive Endocrinology and Infertility (1 month)
Urogynecology (1 month)
---
Much of the on-call system has been replaced by a Night Float structure. Sunday through Thursday nights are covered by night float residents from each year (4 total residents). Friday nights, Saturdays, and Sunday daytime are covered by on-call residents. Typically, weekends are divided into Friday/Sunday and Saturday. Averaged over the course of the residency, the weekend call is one-in-three.
---
Educational meetings occur each morning. Before conference, residents are expected to round on their service. Conferences are given by faculty and senior residents and cover the breadth of obstetric and gynecologic topics. Labor and Delivery board sign-out occurs each morning after conference and is attended by faculty who lead discussions about management and other pertinent issues.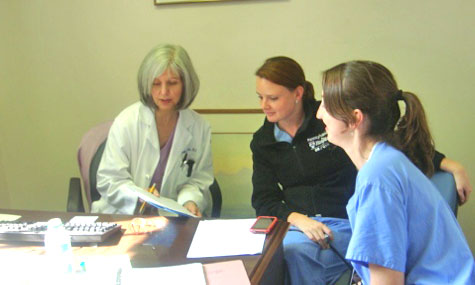 Christina Dave, PGY-2, and Anna Bell-Hibbs, PGY-4, reviewing cases with Wanda Ronner, MD.
Additional scheduled conferences include the following:
Departmental Grand Rounds – Wednesday mornings weekly
Perinatal-Neonatal conference – Mondays weekly
Gynecologic Oncology Pathology conference – Tuesdays bi-weekly
Morbidity and Mortality conference – Monthly
Journal Club – Monthly
---
Women and Children's Health Services (WCHS) is a resident-managed outpatient care facility located on the Pennsylvania Hospital campus. It is one of the largest clinics serving low-income women in Philadelphia. Residents work with nurses, medical assistants, social services, and a nurse practitioner as they manage patients in their own continuity clinic and in subspecialty clinics. The volume and complexity of patients provides a unique opportunity to Pennsylvania Hospital residents. All outpatient sessions are covered by an attending physician.
---
Pennsylvania Hospital residents join with their colleagues from the Hospital of the University of Pennsylvania to participate in medical simulation drills. The simulation curriculum is accomplished on Friday mornings after the conclusion of the Night Float. Penn Medicine has developed a state of the art simulation center, where ob/gyn residents are able to practice obstetric emergencies, laparoscopic skills, and patient communication skills.
---
The Department of Ob/Gyn sponsors memberships in the Philadelphia Obstetrical Society. This group holds monthly dinner lectures. Some residents attend these events for the social exposure to our larger professional community, to network, or to enjoy an interesting lecture. Attendance is optional.
Membership in ACOG is sponsored by the department at no cost to the resident.
---
Residents in each year must take four weeks of vacation, one of which is scheduled around the winter holidays.
Any resident is eligible to attend a national meeting at which they have a first-author, peer-reviewed, original research paper accepted for platform or poster presentation. In addition, PGY-4 residents may attend one educational meeting, regardless of whether they have a presentation or not.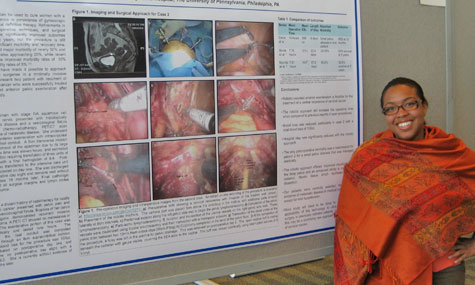 Mitzie-Ann Davis, PGY-4, presenting a poster at SGO in San Francisco, CA.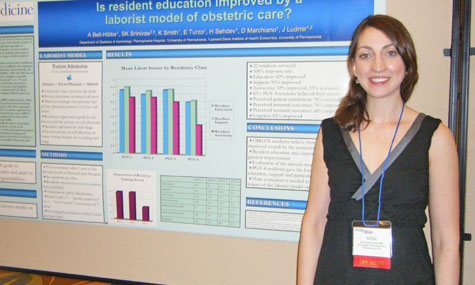 Anna Bell-Hibbs, PGY-4, presenting a poster at annual CREOG/APGO meeting in Orlando, FL.
---
The Department of Obstetrics and Gynecology is committed to a fine tradition of excellence in residency training. To achieve and maintain this level of excellence, residents are evaluated by faculty, nurses, colleagues, and patients. At each semi-annual review, these written, confidential evaluations are individually reviewed with each resident by the program director and are kept on file for assessment of progress toward the six ACGME competencies. Residents proceed through the program by accepting graduated levels of responsibility as deemed appropriate.
Technical skills are assessed by faculty in certain key procedures. Residents are expected to keep accurate patient case data lists using the ACGME case log system.
In order to continually improve the program and educational experience, residents are also asked to evaluate faculty and the program annually.
---
In the past four years, 7 of our 24 graduating residents have gone on to pursue subspecialty fellowships in Urogynecology (3), Maternal Fetal Medicine (2), Family Planning (1), and Gynecologic Oncology (1). The remainder have moved on to general practice, often in the Philadelphia region.
---
Individuals who have successfully completed medical school and/or are following one or more years spent in clinical internship or residency programs are eligible to apply.
---
Applications are received only through the ERAS system. Applications will be reviewed as they are received, and should include:
A passing score on USMLE Step 1 or COMPLEX
A copy of your medical school transcript
Three letters of recommendation from individuals who know you professionally
Dean's letter
Personal statement
Curriculum vitae
Graduates from foreign medical schools must provide photocopies of ECFMG and FLEX/USMLE scores.
Learn more about how to apply »
Odinae Fisher
odinae.fisher@uphs.upenn.edu
Residency Program Coordinator
Pennsylvania Hospital
800 Spruce Street, 2 Pine East
Philadelphia, PA 19107