Interest Group on
Spirituality, Religion, and Health
NEXT MEETING: Wednesday, November 7, 2018
10:00 - 11:30 AM
Hirst Auditorium (Dulles Bldg. First Floor Connector Hallway)
Hospital of the University of Pennsylvania (34th & Spruce)

Our presenter will be Chaplain Cathy Jensen, PsyD, Staff Chaplain at Penn Presbyterian Medical Center and Disaster Spiritual Care Mid-Atlantic Division Advisor for the American Red Cross, who will speak about disaster spiritual care vis-a-vis chaplaincy.

Upcoming Presenter:
December 5, 2018 -- Rev. Charles L. Howard, PhD, University Chaplain, University of Pennsylvania, will present on "The Self, Race, and Social Location: Implications for Spirituality and Health."
General Description of the Group:
Open to everyone from the community, the University, and the Health System
Presentation-discussion format [See: Recent Topics and Presenters, below]
Meetings are generally 10:00-11:30 AM on the first Wednesday of every month, from October to April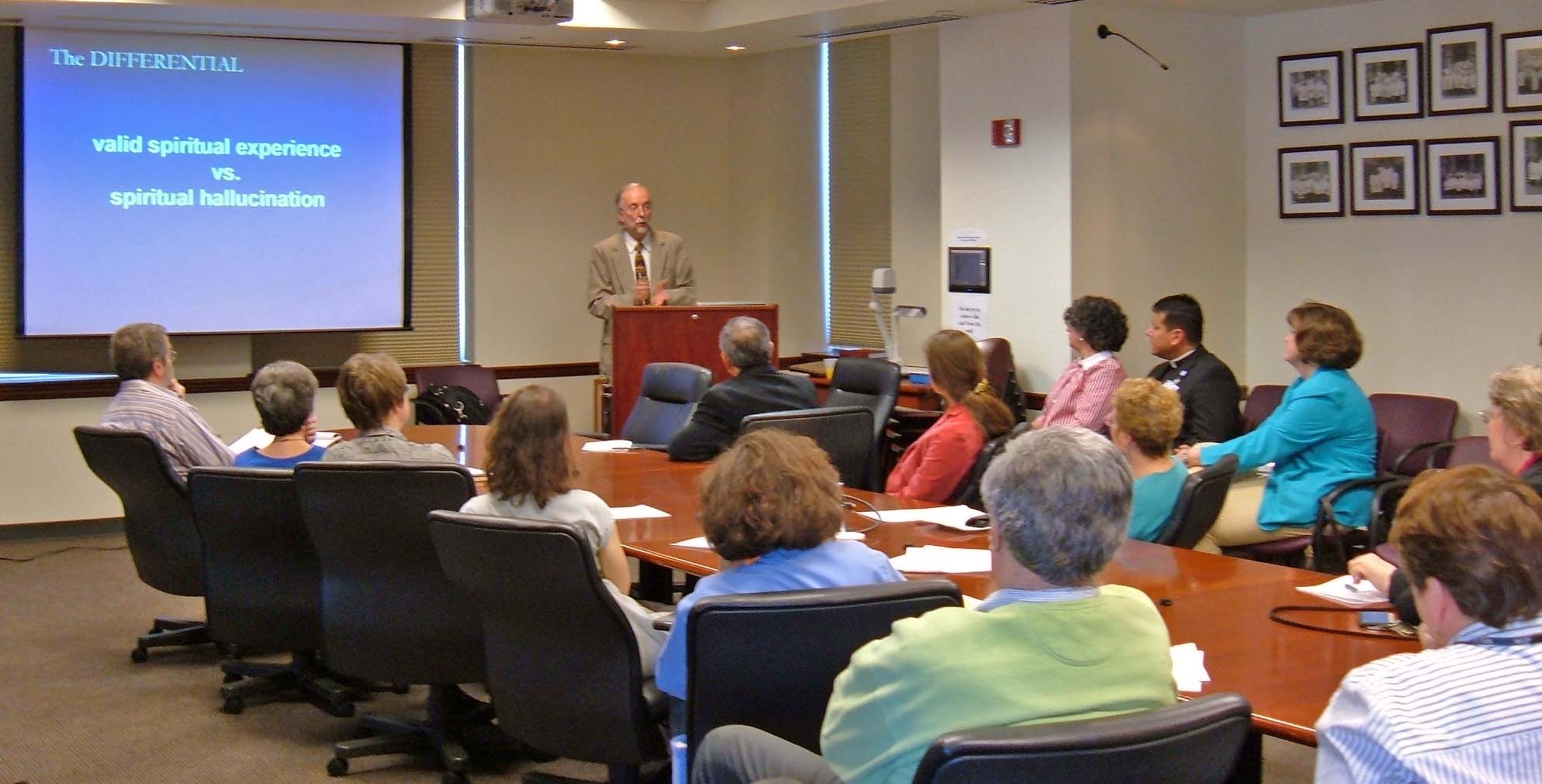 David J. Hufford, PhD, addresses trends in Spirituality & Health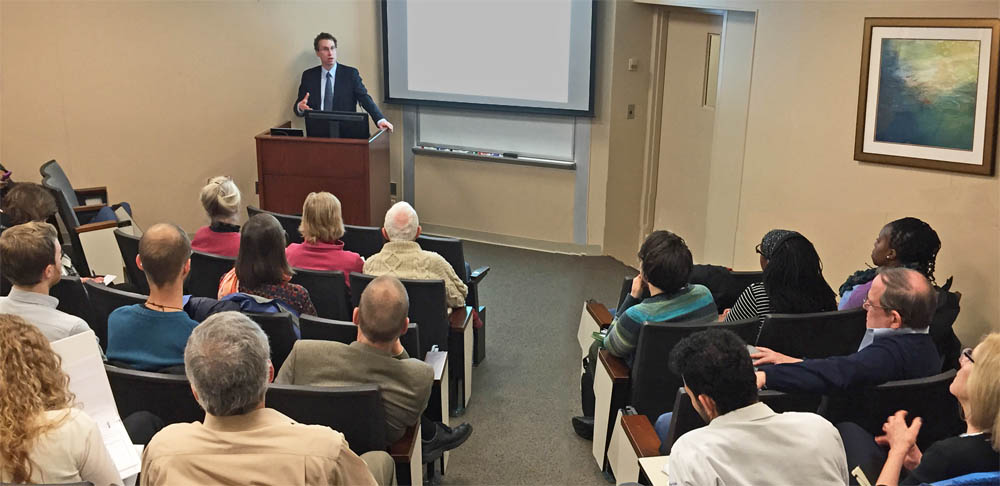 Andrew B. Newberg, MD, presents on "The Metaphysical Mind & Health"
For More Information:
Call 215-662-2591 or e-mail james.browning@uphs.upenn.edu
Past Topics and Presenters:
THE RABBI'S BRAIN: AN INTRODUCTION TO NEUROTHEOLOGY

with Andrew Newberg, MD, Director of Research at the Marcus Institute of Integrative Health at Thomas Jefferson University


SOURCES OF DISTRESS AND CHALLENGES OF SELF-CARE AMONG HEALTHCARE WORKERS

with Jessie Jarmon, MSW, LCSW, Staff Support Coordinator, UPHS Palliative Care Services


NEUROTHEOLOGY: RECENT RESEARCH AND IMPLICATIONS

with Andrew Newberg, MD, Director of Research at the Marcus Institute of Integrative Medicine at Thomas Jefferson University Hospital and Medical College


SPIRITUAL CARE OF THE PERSON WTIH DEMENTIA

with Chaplain Janice Hicks, HUP CPE Resident
[Slides are available by clicking HERE. For more information, see spiritualityanddementia.org.]


INTO THE HEART OF DARKNESS: A PERSONAL STORY OF SUICIDALITY, SURVIVAL, AND SPIRITUALITY

with Loice A. Swisher, MD, Clinical Associate Professor, Drexel University College of Medicine and Emergency Medicine Physician, Mercy Philadelphia Hospital


THE EFFECTS OF TRAUMA EXPOSURE ON CAREGIVERS

with Rev. Alexandra Zareth Canales, MDiv, BCC, Department of Spiritual Care and Mindfulness, Einstein Medical Center, Philadelphia
[Slides are available by clicking HERE.]


PERINATAL LOSS: WHEN HOPE UNBORN HAS DIED

with Denise B. Statham, MTS, MSPCC, Administrative Chaplain at the Hosptal of the University of Pemmsylvania
[Slides are available by clicking HERE.]


SPIRITUALITY & HEALTH RESEARCH: REFLECTIONS ON THE STATE OF THE FIELD

with Chaplain John Ehman,Penn Presbyterian Medical Center
[Slides are available by clicking HERE.]


PROVIDER STRESS AND BURNOUT

with Rev. Dr. Wally Fletcher
[Handout available (as a PDF).]


MORAL INJURY: A CONCEPT EMERGING FROM THE CARE OF VETERANS

with Chris J. Antal, Clinical Staff Chaplain at the Corporal Michael J. Crescenz VA Medical Center (Philadelphia) and co-author of &quotMoral Injury, Soul Repair, and Creating a Place for Grace" [Religious Education 110, no. 4, pp. 382-394], available online from the Penn Law School.
[Presentation Slides Available (as PDF), along with a Song by and Interview with "Angelito" referenced in the slides (made available by special permission).]


RESILIENCE AND RECOVERY OF ICU SURVIVORS: THE ESSENTIAL ROLE OF SPIRITUAL AND FAMILY SUPPORT

with Jason H. Maley, MD, Chief Medicine Resident, Hospital of the University of Pennsylvania
[For a PDF of the PowerPoint presentation, click HERE.]


"SAM AND THE PERFECT WORLD" --VISUAL ARTS AND
LISTENING IN HEALTHCARE

with Barry Bub, MD, author of a commentary in Academic Medicine on the painting, "Sam and the Perfect World"


RESPONDING TO DOMESTIC VIOLENCE: HELPING VICTIMS HEAL SPIRITUALLY, PHYSICALLY, AND SOCIALLY

with Madeline Dawson, MHS, Staff Chaplain, Hospital of the University of Pennsylvania


VETERANS' SPECIAL NEEDS FOR END-OF-LIFE CARE

with Christina Williams, Bayada Home Health Care


"GOOD DEATH?"

with Ralph C. Ciampa, STM, Chaplain Emeritus, HUP Department of Pastoral Care and Education


THE INFLUENCES OF RELIGION AND CULTURE IN AFRICAN AMERICAN ELDERS' PREFERENCES AT END OF LIFE

with Le' Roi Gil, DMin, JD, Chaplain, LIFE Center (Living Independently for Elders), Pamela Z. Cacchione, PhD, CRNP, BC, FANN, Associate Professor of Geropsychiatric Nursing, University of Pennsylvania of School of Nursing, and Justine Sefcik, RN, doctoral student, University of Pennsylvania School of Nursing. [Presentation slides available]


BECOMING A PHYSICIAN – THE JOURNEY THROUGH TRAINING

with Horace DeLisser, MD, Associate Professor of Medicine and Associate Dean for Diversity and Inclusion at the University of Pennsylvania School of Medicine.


SPECTRUM OF CARE: ENGAGING IN CHAPLAINCY WITH INDIVIDUALS WHO HAVE AUTISM

with Margaret Lynn B. Kobb, M.Div., Staff Chaplain at the Hospital of the University of Pennsylvania
[See Chaplain Kobb's PowerPoint slides (as a PDF), plus two other items which were presented: Emily Perl Kingsley's "Welcome to Holland" (via external website) and the brief film, Listen (via Vimeo).


SLOW-HEALING PHYSICAL WOUNDS AFFECTING SPIRITUAL AND PSYCHOLOGICAL WELL-BEING: "WOUNDS AND THE FLOWERS OF KINDNESS"

with Gordon Bermant, JD, PhD, Lecturer, Department of Psychology, and the Benjamin Franklin Scholars Program at the University of Pennsylvania
[Slides, references, and psychosocial factors handouts available as PDFs.]


PASTORAL CARE IN REHABILITATION MEDICINE: A CHAPLAIN'S WORK AND PERSONAL EXPERIENCE

with Arlene E. Grace, MDiv, Chaplain at Penn Medicine at Rittenhouse, Good Shepherd Penn Partners
[For the PowerPoint presentation, click HERE.]


THE METAPHYSICAL MIND AND HEALTH

with Andrew B. Newberg, MD, Director of Research at the Myrna Brind Center for Integrative Medicine, and Professor of Emergency Medicine and Radiology, at Thomas Jefferson University Hospital and Medical College


COPING WITH CHANGE: THEOLOGICAL AND
PSYCHOLOGICAL APPROACHES

with Rev. Rhoda Toperzer, ACPE Supervisor, Clinical Pastoral Education Coordinator, Department of Pastoral Care, Hospital of the University of Pennsylvania


EBOLA AND CHAPLAINS' ROLES IN HOSPITAL PLANNING

with John Ehman, Chaplain, Penn Presbyterian Medical Center, and Margaret Lynn B. Kobb, Chaplain Resident, Hospital of the University of Pennsylvania


RELIGIOUS & CULTURAL ISSUES IN WOUND MANAGEMENT

with Donna Boyer, RN, WCC, SD-CLTC, Certified Wound Specialist and Clinical Educator, Genesis HealthCare, and author of "Cultural Considerations in Advanced Wound Care" [Advances in Skin and Wound Care 26(3):110-1]


THE HEALER'S ART: HOW TO HEAL THE HEALER

with Carol Chou, MD, Associate Professor of Clinical Medicine in the Division of General Medicine at the Perelman School of Medicine at the University of Pennsylvania, and Director of Clinical Coaching in the Internal Medicine Residency Program at Penn


MEDICAL STUDENT CHAPLAIN SHADOWING: THE LEARNING GOES BOTH WAYS

with Horace DeLisser, MD, Associate Professor of Medicine and Associate Dean for Diversity and Inclusion at the University of Pennsylvania School of Medicine


BEDSIDE HARP IN HEALTHCARE

with Edie Eileen Elkan, MA, HCMHT, Founder of Bedside Harp
and Sister Jane Urban, Pastoral Care, Mercy Philadelphia Hospital


SPIRITUALITY AND ONCOLOGY: VIEWS FROM RESEARCH

with Chaplain John Ehman, Penn Presbyterian Medical Center
[For the PowerPoint presentation, click HERE.]


ART THERAPY AND MINDFULNESS: MAKING MEANING FROM HUMAN EXPERIENCE

with Caroline Peterson, MA, ATR-BC, LPC, Licensed Professional Counselor and Board-Certified Art Therapist with the Joan Karnell Supportive Care Programs at the Abramson Cancer Center at Pennsylvania Hospital/Penn Medicine
[For a bibliography of sources from the presentation, click HERE.]


SUICIDE STIGMA: WHAT HEALTH PROFESSIONALS AND CAREGIVERS NEED TO KNOW

with William Feigelman, PhD, and Beverly Feigelman, LCSW
[For the Feigelmans' PowerPoint presentation (as a PDF), click HERE. The film After is available via Vimeo at http://vimeo.com/30819671. For informatin about their book, Devastating Losses: How Parents Cope with the Death of a Child to Suicide or Drugs, see the publisher's site.]


MEDITATION AND PSYCHOTHERAPY

with Helen J. Rosen, PhD, MSW, Adjunct Associate Professor, The Won Institute of Graduate Studies
[For Dr. Rosen's PowerPoint presentation (as a PDF), click HERE.]


DESIGN FOR IMPROVING CONVERSATIONS ABOUT DEATH & DYING

with Jethro Heiko Partner and Designer at The Action Mill, a Philadelphia-based human-centered design firm (www.ActionMill.com)


SPIRITUALITY IN THE INTERDISCIPLINARY TEAM: DYNAMICS OF CARING AND COMMUNICATION

with Barbara Reville, DNP, CRNP, ACHPN, Director, Palliative Care, Hospital of the University of Pennsylvania
[For Dr. Reville's PowerPoint presentation (as a PDF), click HERE.]


CHRISTIAN SCIENCE AND 21ST CENTURY MEDICINE

with Virginia Harris, CSB, Christian Science Board of Lectureship


DILEMMA AND PARADOX: CANCER SURVIVORSHIP IN AN AGEING SOCIETY

with Sarah Kagan, PhD, RN, FAAN, Professor of Gerontological Nursing, University of Pennsylvania School of Nursing


DEVELOPMENT OF CASES FOR SPIRITUALITY EDUCATION: LESSONS LEARNED

with Horace DeLisser, MD, Associate Professor of Medicine at the University of Pennsylvania School of Medicine, and Associate Dean for Diversity and Inclusion


THE SPIRITUAL BRAIN

with Andrew B. Newberg, MD, Director of Research at the Myrna Brind Center for Integrative Medicine, and Professor of Emergency Medicine and Radiology, at Thomas Jefferson University Hospital and Medical College


THE ROLE AND IMPACT OF PERSONAL FAITH AND RELIGION IN THE LIVES OF GENETIC SERVICE PROVIDERS

with Barbara A. Bernhardt, MS, CGC, Clinical Professor of Medicine, University of Pennsylvania Center for Integration of Genetic and Healthcare Technologies (PennCIGHT).
[The PowerPoint presentation, along with an appended list of related publications, is available as a PDF by clicking HERE.]


POST-TRAUMATIC GROWTH: ADVERSITY, TRANSFORMATION, AND SPIRITUALITY

with Ann Marie Roepke, MA, Positive Psychology Center, University of Pennsylvania


ADDICTION, RECOVERY, AND THE SPIRITUALITY THAT INFORMS BOTH

with Carl R. Yusavitz, DMin, Director of Pastoral Services and CPE Supervisor at the Penn Foundation


THE VIRTUES OF THE NEW CONTEMPLATIVE STUDIES

with Gordon Bermant, JD, PhD, Lecturer, Department of Psychology, and the Benjamin Franklin Scholars Program at the University of Pennsylvania
[Dr Bermant's slides will be posted here soon.] [Dr. Bermant's presentation is available as a PDF by clicking HERE Also, materials from the International Symposia for Contemplative Studies are available from the contemplativeresearch.org.]


COPING AND SPIRITUALITY IN PEDIATRIC CANCER PATIENTS AND THEIR FAMILIES

with Aimee K. Hildenbrand, BS, Clinical Research Assistant, The Children's Hospital of Philadelphia,
and Meghan L. Marsac, PhD, Behavioral Researcher, The Children's Hospital of Philadelphia
[The presentation is available as a PDF by clicking HERE.]


PATIENT USE OF A PASTORAL IMAGES BOOKLET IN COPING WITH HOSPITALIZATION

with Florence Gelo, DMin, Associate Professor, Department of Family, Community and Preventive Medicine, Drexel University College of Medicine


PILGRIMAGE: SEEING THE SACRED IN NORTHERN INDIA

with Kava Schafer, MDiv, MA (Holistic Spirituality), Staff Oncology Chaplain for HUP Pastoral Care and Program Chaplain for HUP Palliative Care


FAMILY SHRINES OF HOPE ON THE MEDICAL INTENSIVE CARE UNIT

with John Hansen-Flaschen, MD, Professor of Medicine, Chief, Division of Pulmonary, Allergy, and Critical Care, Hospital of the University of Pennsylvania
[Dr. Hansen-Flaschen's video can be viewed via Vimeo or YouTube.]


SPIRITUALITY & HEALTH: WHAT TWO PROVIDERS HAVE
LEARNED IN WORKING WITH YOUTH AT RISK FOR HIV
AND WITH HIV+ YOUTH

with Nadia Dowshen, MD, Director of Adolescent HIV Services at Children's Hospital of Philadelphia and Assistant Professor of Pediatrics at the University of Pennsylvania,
and Mary R. Tanney, MSN, CRNP, MPH, AAHIVS, Nurse Practitioner, ATN Research Manager, Division of Adolescent Medicine at Children's Hospital of Philadelphia


WORKING WITH FAMILIES OF DEAF CHILDREN

with Donna Jo Napoli, PhD, Professor of Linguistics, Swarthmore College


VERBATIM ET LITERATIM: EXPLORING ETHICS IN NARRATIVES FROM THE BEDSIDE AND THE BOARDROOM

with DAVID PERLMAN, PhD, Senior Lecturer, Penn School of Nursing, and Associate Fellow, Penn Center for Bioethics
[Dr. Perlman's PowerPoint, with a recreding of his introductory remarks, is available as a podcast from www.bioethics.net.


USING YOGA TO ENHANCE COPING & SPIRITUAL DEVELOPMENT

with Christina Jackson, RN, PhD, Professor and Curriculum Chair, Department of Nursing, Eastern University; Associate Editor, Holistic Nursing Practice; and the American Holistic Nurses Association's 2011 Holistic Nurse of the Year
[Dr. Jackson's PowerPoint presentation is available by clicking HERE.]


THE SPIRITUALITY AND ETHICS UNDERLYING THE AFFORDABLE CARE ACT OF 2010

with Thomas M. Knadig, EdD, a Templeton scholar in science and religion, who serves as an extern chaplain with the University of Pennsylvania Health Care System, and co-author of Health Care Ethics and the Law.
[Dr. Knadig's presentation materials are available as PDFs for download: PowerPoint, References (handout #1), and Timeline (handout #2).]


JEWISH CHAPLAINCY, PROFESSIONAL CHAPLAINCY, AND HEALTH CARE: HISTORICAL PERSPECTIVES ON THE PROFESSIONALIZATION OF SPIRITUAL CARE

with Rabbi Robert Tabak, PhD, Staff Chaplain, Hospital of the University of Pennsylvania; Adjunct faculty, St. Joseph's University and Cabrini College; Editor, RRA Connection (Reconstructionist Rabbinical Association Newsletter). He is the author of "The Emergence of Jewish Health-Care Chaplaincy: The Professionalization of Spiritual Care" [American Jewish Archives Journal 62, no. 2, (December 2010): 89-109]


MANTRAM REPETITION FOR HEALTH AND WELLBEING: RESEARCH & CLINICAL APPLICATIONS

with Chaplain Mirabai Galashan, MTh
[Chaplain Galashan's PowerPoint presentation is available as a PDF by clicking HERE.]


GUIDED IMAGERY AND MUSIC: HEALTH, SPIRITUALITY, AND MUSIC IMAGING

with Bryan J. Muller, PhD (Music Therapy), MT-BC, FAMI


BIOLOGY, SPIRITUALITY, AND WELL-BEING: A PERSPECTIVE FROM QUANTUM PHYSICS

with Thomas Padikal, PhD, medical physicist, consultant in radiology and radiation oncology, and chair of Science and Spirituality, Inc.


EDUCATING BUDDHIST CHAPLAINS AND TEACHING CHAPLAINS ABOUT BUDDHISM

with The Rev. Daijaku Judith Kinst, PhD, Chaplaincy Program Coordinator, Institute of Buddhist Studies, Graduate Theological Union, Berkeley, CA


A DISCUSSION OF SPIRITUAL CONCERNS IN THE CARE OF CHILDREN

with Chaplain and Pediatric Nurse Roslyn Taylor, Elise Gaul, Children's Bereavement Coordinator, Wissahickon Hospice's David Bradley Children's Bereavement Program, and Chaplain John Ehman


PRINCIPLES OF NEUROTHEOLOGY

with Andrew Newberg, MD, Director of Research at the Myrna Brind Center for Integrative Medicine at Thomas Jefferson University Hospital and Medical College, and Adjunct Assistant Professor in the Department of Religious Studies at the University of Pennsylvania; author of Principles of Neurotheology


THE FORGIVENESS PROJECT: CLINICAL CONNECTIONS BETWEEN FORGIVENESS AND HEALING

with Chaplain Michael S. Barry, Director of Pastoral Care at Cancer Treatment Centers of America at Eastern Regional Medical Center


"WHEN RELIGION GETS SICK": REFLECTIONS ON WAYNE OATES' IDEAS ABOUT GRIEF IN ILLNESS

with Chaplain Jim Browning, Coordinator of Clinical Pastoral Education at UPHS


INTERFAITH CONVERSATIONS WHEN SOME FAITHS ARE SECULAR

with Gordon Bermant, JD, PhD, Lecturer, Department of Psychology, and the Benjamin Franklin Scholars Program, University of Pennsylvania; and past-president of the Buddhist Churches of America
[Dr. Bermant's PowerPoint presentation is available as a PDF by clicking HERE.]


BLESSINGS AND BATTLES: APPROACHES TO THE EXPERIENCE OF CANCER IN LATE LIFE

with Sarah H. Kagan, RN, PhD, Professor of Gerontological Nursing and Secondary Faculty with the Department of Head and Neck Surgery at the University of Pennsylvania, and author of Cancer in the Lives of Older Americans: Blessings and Battles (2009)


MINDFULNESS PRACTICE

with Michael J. Baime, MD, Clinical Associate Professor at the University of Pennsylvania and founder and Director of the Penn Program for Mindfulness and Stress Management at the School of Medicine


SPIRITUALITY: A NURSE'S JOURNEY THROUGH PRACTICE AND RESEARCH

with Harleah G. Buck, PhD, RN, CHPN, Research Fellow, Hartford Center of Geriatric Nursing Excellence, and NewCourtland Center for Transitions and Health, University of Pennsylvania School of Nursing
[Dr. Buck's PowerPoint presentation is available as a PDF by clicking HERE.]


WAYS THAT CLINICAL STAFF MAY SUPPORT PATIENTS SPIRITUALLY

with John Ehman, Chaplain, Penn Presbyterian Medical Center
[Chaplain Ehman's PowerPoint presentation is available by clicking HERE.]


PARLIAMENT OF THE WORLD'S RELIGIONS: "INTERRELIGIOUS DIALOGUE AS A REVELATORY EXPERIENCE"

with Chaplain Kava Schafer, MDiv, MA (Holistic Spirituality), participant in the Parliament of the World's Religions, Melbourne, Australia, December 2009
[An abridged version of the PowerPoint presentation is available by clicking HERE.]


MIND/BODY/SPIRIT SERVICES FOR WELLNESS IN THE HIV/AIDS COMMUNITY

with staff and associates of SILOAM (www.SILOAMwellness.org): Joseph A. Lukach, MSW, MBA, MDiv, Executive Director; Lori Curtis, MSW, LSW, Program Director; Bernadette Kinniry, RSM, Co-founder; Cathy Maguire, RSM, pastoral counselor; and Mary Lou Galantino, PT, MS, PhD, MSCE, Professor of Physical Therapy, Richard Stockton College of New Jersey
[The Siloam PowerPoint presentation is available as a PDF by clicking HERE.]


"I DON'T WANT TO BE A BURDEN": AN INTERDISCIPLINARY DISCUSSION ON HOW THE SELF-DESCRIPTION OF "BURDEN" MAY IMPACT PATIENTS' CARE.

with Rabbi Tsurah August, Hospice Rabbi for the Jewish Hospice Network of Jewish Family & Children's Service of Greater Philadelphia, The Joan Grossman Center for Chaplaincy and Healing


THE ROLE OF MINDFULNESS IN HEALTHCARE REFORM

with Elizabeth R. Mackenzie, PhD, School of Arts and Sciences, University of Pennsylvania
[Dr. Mackenzie's PowerPoint presentation is available as a PDF by clicking HERE. See also her article, "The Role of Mindfulness in Healthcare Reform: A Policy Paper", and her book, Complementary and Alternative Medicine for Older Adults.]


TALES PUBLICLY ALLOWED: COMPETENCE, CAPACITY, AND RELIGIOUS BELIEF

with Adrienne M. Martin, PhD, Asst. Professor of Philosophy, Senior Fellow, Center for Bioethics, University of Pennsylvania


SPIRITUAL TRANSFORMATION AND COMPLEMENTARY THERAPIES USE AMONG CANCER SURVIVORS

with Jun James Mao, MD, MSCE, Asst. Professor, Department of Family Medicine & Community Health, Hospital of the University of Pennsylvania


THE PERSPECTIVES AND INSTITUTIONAL REALITIES OF HOSPITAL CHAPLAINS

with Wendy Cadge, PhD, Asst. Professor of Sociology, Brandeis University, and Fellow, Radcliffe Institute for Advanced Study, Harvard University; author of Paging God: Religion in the Halls of Medicine
[Dr. Cadge's PowerPoint presentation is available by clicking HERE.]


FOR THE HONEY AND THE STING: GRATITUDE AS PART OF CHAPLAINCY

with Rabbi Robert Tabak, PhD, Staff Chaplain, Hospital of the University of Pennsylvania; Adjunct faculty, St. Joseph's University and Cabrini College; Editor, RRA Connection (Reconstructionist Rabbinical Association Newsletter); and Board of the National Association of Jewish Chaplains.


DISCUSSION OF A NEW ANTHOLOGY PROJECT ON RELIGION, DEATH, AND DYING IN AMERICA

with Lucy Bregman, PhD, Professor of Religion, Temple University


SPIRITUAL DIRECTION: CULTIVATING HOLISTIC SPIRITUALITY THROUGH RELATIONSHIP

with Kava Schafer, MDiv, MA, HUP Staff Chaplain


PROVIDING PASTORAL CARE SERVICES TO A HOSPITAL THROUGH THE CPE MODEL: A DIALOGUE ON EDUCATION AND PRACTICE

with Randy Shoun, Coordinator of Clinical Pastoral Education, UPHS


PROFESSIONALISM AND THE PRIVILEGE OF PRACTICE

with Jack Truten, PhD, Director, Professionalism Education, University of Pennsylvania School of Medicine


THE PARLIAMENT OF THE WORLD'S RELIGIONS

with Solomon Katz, PhD, Director of the Krogman Center for Childhood Growth and Development at the University of Pennsylvania, and Trustee with the Parliament of the World's Religions


THOUGHTS ON PSYCHOANALYSIS AND RELATIONSHIP TO THE TRANSCENDENT

with Howard S. Baker, MD, Clinical Associate Professor of Psychiatry, University of Pennsylvania School of Medicine, and Scott Jones, MDiv
[Slides from this presentation are available as a PDF by clicking HERE.]


VICTIMS OF VIOLENCE AND THOSE WHO CARE

with Linda O'Brien, RN, MA, founder and former President of ElderCare Ethics Associates, chaplain for Holisticare Hospice, and adjunct chaplain at HUP.


FACING THE END OF LIFE AS A HOSPITAL PATIENT: SPIRITUAL CARE NEEDS AND OPPORTUNITIES

with Christina M. Puchalski, MD, Director of the George Washington Institute for Spirituality and Health (Washington, DC), and Associate Professor at the George Washington University School of Medicine and Health Sciences. (For a list of journal articles, click HERE.)


AGING, DEMENTIA, AND WELL-BEING

with Rabbi Dayle A. Friedman, Director of Hiddur: The Center for Aging and Judaism at the Reconstructionist Rabbinical College (Wyncote, PA) and editor of the ground-breaking book, Jewish Pastoral Care: A Practical Handbook from Traditional and Contemporary Sources, and author of Jewish Visions for Aging: A Professional Guide for Fostering Wholeness.


HOW HINDUISM VIEWS PAIN AND SUFFERING

with Sarah M. Whitman, MD, Clinical Assistant Professor in the Department of Psychiatry at the Drexel University College of Medicine, and authors of: "Pain and Suffering as Viewed by the Hindu Religion," Journal of Pain 8(8):607-13. [Dr. Whitman's PowerPoint presentation is available as a PDF by clicking HERE.]


THE RITE STUFF: ROSARY AT THE INTERSECTION OF RELIGION AND HEALTH

with Matthew Anastasi, BA, Chief Technologist at Penn's CLinical Research Center for Sleep, and Research Assistant at the Center for Spirituality and the Mind; and Andrew Newberg, MD, Associate Professor of Radiology and Psychiatry at Penn, and Director of the Center for Spirituality and the Mind --co-authors of "A Preliminary Study of the Acute Effects of Religious Ritual on Anxiety" [Journal of Complementary and Alternative Medicine 14, no. 2 (February 2008): 163-165].


SPIRITUALITY AND MEDICATION ADHERENCE IN OLDER AFRICAN AMERICAN WOMEN DIAGNOSED WITH HYPERTENSION: A PROCESS OF PARTNERING WITH GOD

with Lisa M. Lewis, PhD, RN, Assistant Professor, Penn School of Nursing, Family and Community Health Division, and the Center for Health Disparities Research.
[Dr. Lewis' PowerPoint presentation is available by clicking HERE.]


DIFFERENTIATING VISIONARY SPIRITUAL EXPERIENCES FROM PSYCHOTIC HALLUCINATIONS

with David J. Hufford, PhD, University Professor Emeritus at Penn State and the 2007-2008 Templeton Research Fellow with the University of Pennsylvania's Mind, Religion, and Ethics in Dialogue lecture series


SPIRITUAL HEALING: RELATING THE HEALING TRADITIONS OF RELIGION AND MEDICINE

with David J. Hufford, PhD, University Professor Emeritus at Penn State and the 2007-2008 Templeton Research Fellow with the University of Pennsylvania's Mind, Religion, and Ethics in Dialogue lecture series


PSYCHOSOCIAL AND SPIRITUAL NEEDS OF CHILDREN LIVING WITH A LIFE-LIMITING ILLNESS

with Tammy I. Kang, MD, Medical Director of the Pediatric Advanced Care Team (PACT) at Children's Hospital of Philadelphia and co-author of "Psychosocial and Spiritual Needs of Children Living with a Life-Limiting Illness" [Pediatric Clinics of North America 54, no. 5 (Oct 2007): 609-29],
and Dexter Lanctot, Chaplain, PACT
[A PDF file of the PowerPoint presentation is available by clicking HERE.]


AN OPEN DISCUSSION OF THE SPIRITUAL ASPECTS OF POST TRAUMATIC STRESS DISORDER (PTSD)

with Dina Greenberg


MINDFULNESS AND MOTIVATION IN DAILY LIFE: INSIGHTS AND PROVOCATIONS

with Jackson Kytle, PhD, Vice President for Academic Affairs at The HealthCare Chaplaincy in New York City, and author of To Want To Learn (available through Amazon and other retailers)
[Dr. Kytle's PowerPoint presentation is available by clicking HERE.]


THE "EXPLOSION" OF INTEREST IN SPIRITUALITY & HEALTH: HOW DID WE GET HERE AND WHY IS IT IMPORTANT?

with David J. Hufford, PhD, University Professor Emeritus at Penn State and the 2007-2008 Templeton Research Fellow with the University of Pennsylvania's Mind, Religion, and Ethics in Dialogue lecture series.


THE IMPACT OF SPIRITUAL BELIEFS AND PRAYER
ON PHYSICAL HEALTH AND WELL-BEING

with Christopher Lance Coleman, PhD, MPH, APRN-BC, ACRN, Assistant Professor of Nursing at the University of Pennsylvania, and faculty for the Center for Health Disparities Research and the Graduate Program in Public Health Studies.


THE SPIRITUAL TRANSFORMATIONAL PROCESSES OF BAALEI TESHUVAH

with Roberta G. Sands, MSW, PhD, Professor, University of Pennsylvania School of Social Policy and Practice
[Professor Sands' PowerPoint presentation is available by clicking HERE.]


PRAYER AFTER STROKE, AND ITS RELATION TO QUALITY OF LIFE

with Gale Robinson-Smith, RN, PhD, College of Nursing at Villanova University


TAKING A CHANCE ON GOD

with Rev. Bobbie McKay, PhD, and Lewis A. Musil, MFA, of the Spiritual Health Center, Wilmette, IL


DISCUSSION OF RAPHAEL CAMPO'S ESSAY, "LIKE A PRAYER"

with Elizabeth Mackenzie, PhD, Lecturer, University of Pennsylvania Department of Science, Technology and Society and a Penn Writing Fellow


COMMUNICATION SKILLS THAT HEAL: PUTTING YOUR EMOTIONS TO WORK

with Barry Bub, MD, author of Communication Skills that Heal: A Practical Approach to a New Professionalism in Medicine (2005). To read a sample chapter from Dr. Bub's book, and for more information about him, visit www.processmedicine.com.


ENTHEOGENS, ENLIGHTENMENT, AND EXPERIMENTAL HUMANITIES

with Thomas B. Roberts, PhD, Professor Emeritus at Northern Illinois University, where he has taught Foundations of Psychedelic Studies since 1982. Dr. Roberts is author of Psychoactive Sacramentals: Essays on Entheogens and Religion and the recently published Psychedelic Horizons and is co-author of the on-line resource, Religion and Psychoactive Sacraments: An Entheogen Chrestomathy (http://csp.org/chrestomathy).


REFLECTIONS ON SPIRITUALITY AND HEALTH FROM THE PERSPECTIVE OF A PHYSICAL THERAPY RESEARCHER

with Mary Lou Galantino, PT, PhD, MSCE, Professor of Physical Therapy, Richard Stockton College of New Jersey. [For a select bibliography of articles (PDF) from Dr. Galantino's overall work, click here.]


WHY WE BELIEVE WHAT WE BELIEVE: BELIEFS AND THEIR EFFECT ON HEALTH

with Andrew Newberg, M.D., Associate Professor of Radiology and Psychiatry, and Director of the Center for Spirituality and the Mind, University of Pennsylvania. [This program is sponsored by Penn's Center for Spirituality and the Mind.]


D.T. SUZUKI: REFLECTIONS ON THE LIFE OF AN IMPORTANT ZEN PIONEER

with Albert J. Stunkard, MD, Emeritus Professor of Psychiatry, and author of "Suzuki Daisetz: An Appreciation," Eastern Buddhist (new series) 36, nos. 1-2 (2004): 192-228. [This program is sponsored by Penn's Center for Spirituality and the Mind.]


SHOULD THE ROLES OF PHYSICIAN AND CHAPLAIN BE FUSED? A PERSONAL REFLECTION.

with Robert M. Nelson, MD, PhD, Associate Professor of Anesthesia, Critical Care, and Pediatrics, The Children's Hospital of Philadelphia, and The University of Pennsylvania School of Medicine. [Dr. Nelson's PowerPoint presentation is available by clicking HERE.]


REFLECTIONS ON PENN'S SPIRITUALITY & MEDICINE SUMMER ELECTIVE COURSE IN THE SCHOOL OF MEDICINE

with Michael Baime, MD, Co-Leader of the Spirituality & Medicine Course


WHEN THE FAMILY EXPECTS A MIRACLE

with Horace DeLisser, MD, Associate Professor of Medicine, Division of Pulmonary, Allergy and Critical Care, HUP, and Former Physician Co-Chair, HUP Ethics Committee


DEATH OF A DREAM: SPIRITUAL CARE FOR THE PEDIATRIC PATIENT AND FAMILY AT END OF LIFE

with Mirabai Galashan, Interfaith Chaplain, Pediatric Advanced Care Team, The Children's Hospital of Philadelphia, and
Don Eisenhauer, Hospice Chaplain, Visiting Nurse Association of Pottstown and Vicinity


HUMOR AND SPIRITUALITY NEAR THE END OF LIFE

with Marvin E. Herring, MD, Clinical Professor, Family Medicine, University of Medicine and Dentistry of New Jersey, School of Medicine
[Dr. Herring's PowerPoint presentation is available by clicking HERE. Any use of his drawings or other material should be acknowledged to herrinmg@umdnj.edu.]


DISCUSSION OF "RELIGIOSITY IN A HEMODIALYSIS POPULATION AND ITS RELATIONSHIP TO SATISFACTION WITH MEDICAL CARE, SATISFACTION WITH LIFE, AND ADHERENCE" [ American Journal of Kidney Diseases 44, no. 3 (September 2004): 488-497]

with Elisheva Berman, MD, Psychiatry Resident, Albert Einstein College of Medicine (New York City) and
Joshua H. Lipschutz, MD, Assistant Professor of Medicine, University of Pennsylvania.
[Dr. Berman's PowerPoint presentation is available by clicking HERE.]


HEALING THE SOUL IN THE AGE OF THE BRAIN: THE IMPORTANCE OF BEING CONSCIOUS

with Elio Frattaroli, MD, psychiatrist and physhoanalyst, and author of Healing the Soul in the Age of the Brain (www.eliofrattaroli.com)
and with a response by Andrew Newberg, MD, Assistant Professor, Department of Radiology and Psychiatry, University of Pennsylvania. [This event co-sponsored with Mind, Religion, and Ethics in Dialogue --winner of the Templeton Research Lectureship Program on the Constructive Dialogue between Science and Religion]


WHEN THE FAMILY AND TREATMENT TEAM DISAGREE: CULTURAL, ETHICAL, SPIRITUAL CONSIDERATIONS

with Chaplain Ralph Ciampa, Director, Department of Pastoral Care
[Chaplain Ciampa's PowerPoint presentation is available by clicking HERE.]


REFLECTIONS ON HOSPITAL CHAPLAINCY FROM AN ANTHROPOLOGICAL PERSPECTIVE

with Britt Dahlberg


IS SPIRITUALITY JUST ANOTHER WORD FOR POSITIVE EMOTIONS?

with George Vaillant, M.D., Professor of Psychiatry at Harvard Medical School, Director of Research for the Department of Psychiatry, Brigham and Women's Hospital, and author of Aging Well and The Wisdom of the Ego. [This event co-sponsored with Mind, Religion, and Ethics in Dialogue --winner of the Templeton Research Lectureship Program on the Constructive Dialogue between Science and Religion]


CONNECTION AND NON-LOCALITY IN SPIRITUALITY, MEDICINE, AND HOLISTIC HEALING

with Wendy J. Canning, LISTD, LA, BB


SPIRITUAL STRUGGLE AND PATIENTS' RELIGIOUS COPING

with Chaplain John Ehman, UPHS Pastoral Care Department
[Chaplain Ehman's PowerPoint presentation is available by clicking HERE.]


HOW TO GROW FAITH, HOPE, AND COMPASSION WHEN WE HAVE DOUBTS!

with Barbara Wingate, MD, MSW


BUDDHISM AND WORKING WITH BUDDHIST PATIENTS

with Chaplain John Weber


CONDUCTING SPIRITUAL ASSESSMENTS IN HOSPITALS AND OTHER SETTINGS: AN OVERVIEW OF SIX QUALITATIVE SPIRITUAL ASSESSMENT TOOLS

with David R. Hodge, Ph.D., Post-doctoral fellow, Program for Research on Religion and Urban Civil Society at Penn and author of Spiritual Assessment: A Handbook for Helping Professionals


AN OPEN DISCUSSION ON BIOETHICS IN A PLURALISTIC SOCIETY, WITH RESPECT TO RELIGIOUS/SPIRITUAL CONVICTIONS --LED BY A DOCTOR WHO DOES HOUSE CALLS

with Michael Moore, MD, HUP Department of Medicine Immunodeficiency Program


HEALING THE BODY, HEALING THE SOUL: CHALLENGES AT THE INTERSECTION OF SPIRITUALITY AND MODERN HEALTH CARE

with Dina Greenberg, MLA


VALUES-BASED DECISION MAKING: A MODEL FOR CONVERSATIONS WITH PATIENTS AND THEIR FAMILIES

with Rabbi David A. Teutsch, PhD, Professor of Contemporary Jewish Civilization at the Reconstructionist Rabbinical College, and Director of the Levin-Lieber Program in Jewish Ethics and the Center for Jewish Ethics.


HOW OUR PATIENTS PERCEIVE US: ROLE EXPECTATIONS FOR CHAPLAINS/CLINICIANS

with discussion led by Roslyn Taylor, RN, MARS
and Linda O'Brien, RN, MA, Director of Eldercare Ethics Associates


SPIRITUALITY MEASURED: CAPTURING THE ELUSIVE EFFECT: REFLECTIONS ON THE RECENT CONFERENCE AT THE MAYO CLINIC

with Wilson Will, HUP Chaplain Resident


THE SPECTRUM OF DEPRESSION AND SPIRITUALITY AMONG OLDER ADULTS

with Sarah Forrest, Research Coordinator, Spectrum II Project, University of Pennsylvania Department of Family Practice and Community Medicine


REFLECTIONS ON THE SPIRITUALITY & HEALTH COURSE AT PENN'S CENTER FOR BIOETHICS

with David Sontag, JD, MBE


MEDICAL STUDENT PERSPECTIVES ON THE SPIRITUALITY AND HEALTH SUMMER ELECTIVE COURSE AT PENN

with Penn Medical Students Molly Carey, Laura Heller, Jennifer Holton, and Vishal Patel,
and Lynn Seng, MSEd, Director, Special Educational Projects, University of Pennsylvania School of Medicine


TEACHING THE ASSESSMENT OF SPIRITUALITY TO MEDICAL STUDENTS AND RESIDENTS