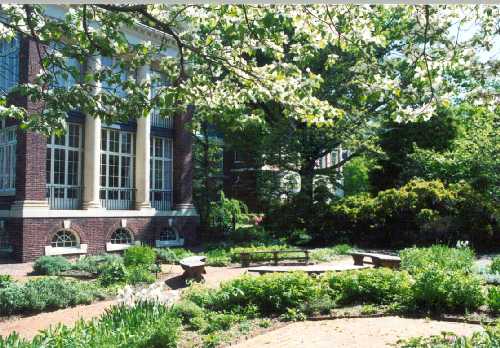 Physic Garden in front of the Pine Building's West Wing, Spring 2004. The Board of Managers first proposed the Physic Garden in 1774 to provide physicians with ingredients for medicines. The idea was approved, but financial circumstances intervened and the project was abandoned. However, in 1976, as a celebration of the Nation's Bicentennial, the Philadelphia Committee of the Garden Club of America and the Friends of Pennsylvania Hospital planted the garden in the spirit of the original 1774 plan. The garden contains the plants and herbs that were used for medicines in the 18th century. The Philadelphia Committee of the Garden Club still maintains the garden. Photo by Kristin Petyak.


Copyright Notice:
The copyright law of the United States (Title 17, United States Code) governs the making of photocopies and other reproductions of copyrighted material. Under certain conditions specified in the law, libraries and archives are authorized to furnish a photocopy or other reproduction. One of the specified conditions is that the photocopy or other reproduction is not to be "used for any purpose other than private study, scholarship or research." If a user makes a request for, or later uses, a photocopy or reproduction for purposes in excess of "fair use," that user may be liable for copyright infringement. This institution reserves the right to refuse to accept a copying order if, in its judgment, fulfillment of the order would involve violation of copyright law.
Reproductions of materials in the Pennsylvania Hospital Historic Collections are provided as a service to expedite research and lessen wear on image/ documents, and are made solely for the personal use of the individual researcher requesting them. Reproductions may not be transferred to another individual or organization, deposited at another institution, or reduplicated without prior permission of the Pennsylvania Hospital. Duplication by the Hospital in no way transfers either the copyright or the property right. Similarly, duplication by the Hospital does not constitute permission to publish, or to display materials, without the express written consent of the Pennsylvania Hospital Archivist via a signed Permission to Publish and/or Exhibit Materials form, and the payment of use fees where applicable.