Founded in 1751, Pennsylvania Hospital is the nation's first hospital. The Pine Building, acknowledged as a fine example of Colonial and Federal period architecture, is open to the public. For more information, or to schedule a guided tour, contact us at (215) 829-3370.
Walking tour brochures for self-guided tours are available at the Welcome Desk. Please enter through the main entrance on 8th Street; the Welcome Desk will be in front of you. Due to limited quantity, only one brochure will be given for every three persons in your party.
Christ Healing the Sick in the Temple
This painting of "Christ Healing the Sick in the Temple" was painted by Benjamin West in 1815.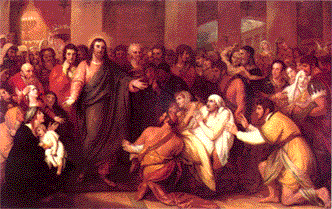 West, a native Philadelphian, was the historical painter for King George III and eventually became the president of the Royal Academy of Arts in London. The Hospital's Board of Managers asked him to create the painting and donate it to the Hospital in 1800. West agreed and chose his subject to be "the redeemer of mankind extending his aid to the afflicted of all ranks and condition."
The painting took 11 years to complete. It caused such a stir in England, the officers of the British Institution pressured West into selling it to the proposed National Gallery for 3000 guineas. He did and the painting received the largest sum ever paid for a modern work at the time. West assured the Pennsylvania Hospital Board of Managers that he would create a second painting that would be even better than the first. In the second painting, he added a "demoniac with his attendant relations" to pay homage to Pennsylvania Hospital's treatment of the mentally ill.
The painting was delivered to the Hospital in 1817 and was displayed in a picture house created especially for it. West donated the painting to the Hospital in the memory of his wife of 53 years, Elizabeth, who was also a Philadelphia native. It is said that this was the first piece of fine art available to be seen by the general population in colonial America. The painting attracted 30,000 visitors during the first 12 months it hung in the picture house at Pennsylvania Hospital. Admission fees over the next 25 years paid for the picture house and added $15,000 to the Hospital's funds.
West died at age 82 and is buried in St. Paul's Cathedral, London.
Continue on to The Pine Building