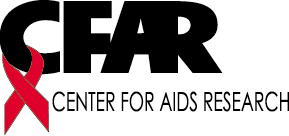 ---
Click here for - CFAR web page
The Clinical Core of the CFAR at University of Pennsylvania has three aims.
1. To develop and maintain a confidential patient database and specimen bank to help identify specific subsets of HIV-infected and HIV-exposed individuals for basic, clinical, and behavioral projects.

2. To establish mechanisms that provide access to novel therapeutics and investigations to a widely diverse population of HIV-infected and HIV-exposed individuals, including women and minorities.
3. To initiate collaborative programs between CFAR members and outside investigators, including the promotion of clinical research collaborations with industry.
Contact Information
If you would like more information about the CFAR program at The University of Pennsylvania please feel free to contact us through the methods provided below.
Telephone

215-662-2429

FAX

215-349-8011

Postal address

502 Johnson Pavilion Philadelphia, PA 19104

Electronic mail

General Information: Debbie Gudonis