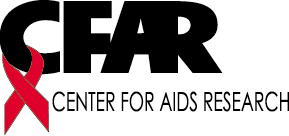 ---
Click here for - CFAR web page
The Penn Center for AIDS Research (Penn CFAR) is one of 21 NIH-funded CFARs and includes HIV and AIDS investigators at the University of Pennsylvania, the Children's Hospital of Philadelphia (CHOP), and the Wistar Institute.
The Penn CFAR's mission is to support, encourage and facilitate research in all areas of HIV/AIDS on the Penn/CHOP/Wistar campus by:
(a) facilitating communication and interdisciplinary collaborations through workshops, working groups, strategic planning efforts, and a seminar series covering all topics in the field;
(b) support innovative pilot reaseach in HIV/AIDS through developmental pilot grant programs including nonhuman primate-based research;
(c) mentoring and support of junior investigators;
(d) services and training in support of HIV research through Shared Cores: Clinical, Viral/Molecular, Immunology, Biostatistics & Data Management; Behavioral and Social Sciences; International; Nonhuman Primate.
Contact Information
If you would like more information about the CFAR program at The University of Pennsylvania please feel free to contact us through the methods provided below.
Telephone

215-662-2429

Postal address

502 Johnson Pavilion Philadelphia, PA 19104

Email