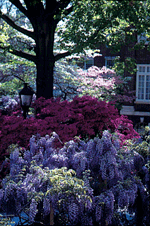 The dry moat surrounding the Hospital was used to exercise the mentally ill. Out of morbid curiosity, townspeople gathered on Sundays to watch the patients. Hospital leaders attempted to discourage this by building a fence in front of the windows to the cells. When this proved ineffective, a sign was put up stating that anyone intent on viewing the patients must pay 4 pence. The money was used to provide funding needed to care for more patients, both the physically ill and the insane.
Pennsylvania Hospital is extremely proud of its gardens. In the spring, when the Pine Street garden is in full bloom, the wisteria in front of the center building and the azaleas along the sides are in their full glory. Both the azalea bushes and wisteria vines are estimated to be over 100 years old.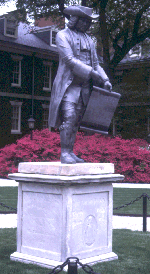 William Penn Statue
In the center of the front lawn is a statue of William Penn. John Penn, William's grandson, found it in an antique shop in London and presented to the Hospital 1804. In 1751 the Hospital managers purchased half of the block that bordered Spruce and Pine Streets between 8th and 9th Streets. Several years later, the John Penn and his family donated the other half, a little less than 1 acre, to give the Hospital the full block. Legend has it that William Penn's ghost leaves the statue and walks the grounds of the Hospital at night.
Physic Garden
To the far right, behind the azaleas is the Physic Garden, the jewel in the crown that makes up the Pennsylvania Hospital gardens. The Board of Managers first proposed the Physic Garden in 1774 to provide physicians with ingredients for medicines. The idea was approved, but financial circumstances intervened and the project was delayed for tw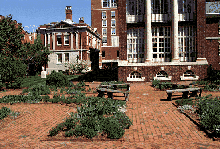 o centuries. In 1976, the planting of the garden was the bicentennial project of the Philadelphia Committee of the Garden Club of America and the Friends of Pennsylvania Hospital. The garden contains the plants and herbs that were used for medicines in the 18th century. The Philadelphia Committee of the Garden Club continues to maintain the garden to this day. The garden's original plans, designed by Martha Ludes Garra, are on display on the wall across from Christ Healing the Sick in the Temple.

Cornerstone
The original cornerstone, with text drafted by Benjamin Franklin, can still be viewed and is protected by Plexiglas. The text reads:

250 years later, Pennsylvania Hospital continues to thrive. The Pine Building is a National Registered Landmark.
Back to Virtual Tour Home