Floor Plan
Simulation at Penn Medicine is 22,000 sq. feet located in what was previously an operational OR suite, PACU, pre-operative holding area and endoscopy suite.  This is located on the second floor of a facility that also houses long-term acute care, hospice and rehabilitation services. The space has been renovated to include the following spaces: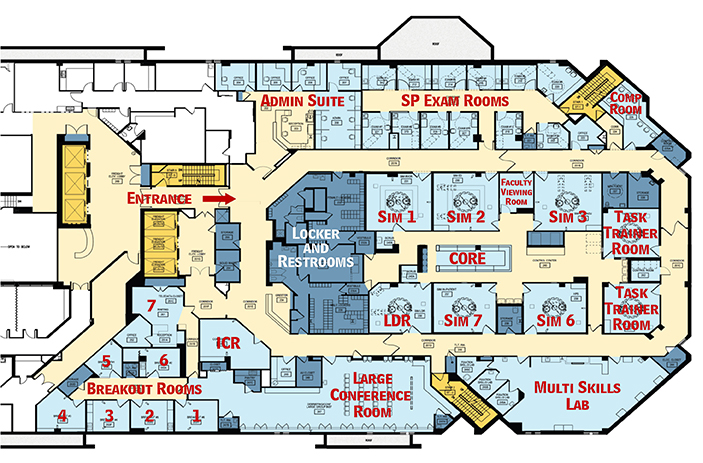 Control Room (CORE)
The technological "brain" behind the center, the control room is a 20 x 70 feet area, enclosed by a half wall, situated in a central core off of which each of the large simulated training rooms are located. This is the site of all audio, video, data and voice recording and simulator manipulation for the center. From this space one can also view the action taking place in each of the twelve exams rooms and six large simulated training rooms via dedicated computer monitor stations and/or 4 60" plasma screens which can selectively display the action within one or multiple rooms. Within this control center one can also view all training taking place every other room of the Center, including the debriefing, conference and skills lab space through either integrated or mobile devices.

Large Conference Room
A 1500 sq foot conference room that can accommodate up to fifty learners seated theater style.  The room is equipped with a one-hundred-inch ceiling drop down projection screen, a ceiling mounted projector, speakers and a podium from which the AV can be controlled. The audiovisual equipment within this space allows viewing of live and pre-recorded simulated scenarios taking place in the Center as well as PowerPoint and DVD presentations. The seating and tables are modular to allow multiple configurations including the transition to a multiple station skills lab for sessions such as ACLS or BLS training if necessary.

Multi Skills Lab
The Multi Skills Lab is a 1500 sq foot space used to accommodate multiple training stations (may be tables or patient beds) to teach the same or several different tasks to multiple learners, such as cardiac resuscitation, central line placement or suturing, with each student at their own station with multiple circulating instructors. This space includes two 60" plasma screen, one-hundred-inch ceiling drop down projection screen, a ceiling mounted projector, speakers and a podium from which the AV can be controlled. As part of our AV upgrade in 2018-2019 the Multi Skills was outfitted with three cameras that utilize our B-Line recording system. This allows us to expand our simulation offering, providing one additional room with audio visual recording capabilities.

Individual "Sim" Rooms (SimOR, SimICU etc.) (6)
These 400 to 500 square foot rooms are equipped with either a SimMan patient simulator model, SimMom or SimNewB, relevant medical supplies, equipment, monitors and furniture to recreate a realistic hospital OR/ED/ICU/LDR atmosphere. The rooms are equipped with three to four cameras arranged to capture various views, two microphones to record team interaction, a speaker and intercom. The rooms also include at least one (two in LDR) 42-inch plasma screen to replay the simulated scenario if the room is to be used for debriefing purposes following the activity or to provide a didactic lecture or "patient" background information prior to initiating the simulated experience. Live or previously recorded scenarios can also be shown and discussed with them team in one of the break out rooms. All session can be recorded and stored securely using the B-Line Medical system.

Task Trainer Rooms (2)
These rooms contain various virtual reality trainers, FLS trainers and laparoscopic towers and models. Mobile capture (B-Line) units can be utilized in these rooms. One of these rooms functions as a "wet lab".

Standardized "Sim" Patient Exam Area
The standard patient exam rooms are 100 to 150 sq feet and contain an exam table, otoscope/ophthalmic scope/blood pressure cuff, chairs, sink and computer, appearing much like most patient exam rooms within the hospital. The rooms are also equipped with two cameras arranged to capture various views and a microphone to record interaction and speakers.
Instructors can also view the interactions taking place in all of the rooms simultaneously (including view from two cameras per room) in the faculty viewing area across the corridor and can review them with the learner in one of the Center's breakout rooms. There is also a station outside each room with a wall mounted laptop where the student can complete the "patients" electronic medical record after their encounter.  All session can be recorded and stored securely using the CAE system.

Faculty Observation Rooms
This room is equipped with two 42" plasma screens and two 20" plasmas screens. Faculty involved in the oversight of the standardized patient course can observe 24 views of all twelve standardized patient rooms simultaneously and select two rooms, with multiple views on the included 20" plasmas. There is a second room from which faculty can view the sessions taking place in one or more of the Sim Rooms.

Breakout Rooms (7 Small and 1 Intermediate)
Following the simulated scenario, the learners typically meet with a faculty member for debriefing.  In addition to a tables seating up to eight individuals, each of these rooms are equipped with a 42" plasma screen for play back of the scenario displaying multiple camera views. Playback can be paused, forwarded or replayed at any point. Since the furniture in these rooms is also mobile, they are also used to provide space for small group training of skills such as well as breakout skill space for ACLS and Neonatal Resuscitation (NRP).

Administration Suite Area
The Administration area contains welcome space staffed by Education Coordinator, and the offices for the Director of Learning Innovation, Operations Manager, Educators and Simulation Operation Specialists.  There are also five cubicle desk spaces for the Surgery Simulation Fellow, as well as visiting faculty and instructors. Offices for both the Coordinators of the Standardized Patient Program and Life Support Programs are located down the hall from this space.

Computer Rooms
Includes nine computer stations and a printer for individual or classroom based learning.